Researchers Database
The Researchers Database module was designed to register researchers, their visits, requests, and statistics related to all activities of the Research Room.
In the Researchers Database module, four submenus are available: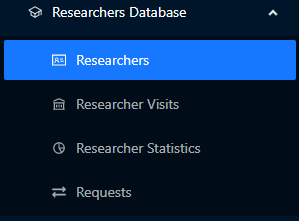 Researchers submenu to register and edit the personal data of the researchers.
Researchers Vistis to register and edit their visits, and check them in and out during their personal visit.
Researchers Statistics to see the statistics related to their past activities.
Requests to administer the researchers' requests.
---
Written by Leposa Balázs on Wednesday March 22, 2023 - updated on Friday April 28, 2023