Guidelines for Processing Analog Materials
These guidelines provide guidance for the processing analog archival materials. They should be used in conjunction with the Open Society Archives (OSA) Catalog Manual, in particular subchapter 1.2 Archival Workflow.
Having begun processing activities implies the completion of the appraisal and accession processes, in which the continuing value of the records has been established. These guidelines cover the processing of paper-based records.
Processing guidelines for audio-visual analog media and analog photographic records are forthcoming.
General Principles
When processing, consider the principles of Respect des fonds and original order or provenance. Respect des fonds and original order underscore the fundamental intellectual arrangement of an archival unit.
The final structure of the collection should be approved by the Chief Archivist for each processing project.
OSA processes archival units in accordance with a three-level archival hierarchy. OSA does not utilize the sub-series archival hierarchical level, whereas sub-fonds are optional depending on the nature of the collection.
The lowest level of materials that needs to be routinely targeted in the processing project are folders and or items.
Within a series there is need for applying an organizing logic: alphabetic, chronological, numeric etc. This logic should be implemented consistently in the series across containers/ carrier media.
Remove duplicates with the approval for the project's supervising archivist and the completion of a Disposal form.
Permanent separation of materials at series or folder level can be justified for preservation reasons or by the physical dimensions of the material. It requires documentation and authorization: the removal should be recorded.
Example: Audiovisual materials require a particular climate and archival equipment that differs from paper records. They should therefore be organized in different series' to ensure the stability of the media.
Before processing begins, preservation issues, duplicates and non-archival materials should be identified.
The Physical Processing of Textual, Paper Materials
The physical processing of archival and library materials encompasses various preservation, description and housing activities. These are outlined here in the order in which they are generally performed.
1. Arrangement
In accordance with this manual's subchapter 1.2 Archival Workflow's Processing section, and with the guidance and support of an experienced archivist or processing technician, arrange the archival unit.
2. Preservation
Fragile or damaged paper, as well as highly-acidic records (paper clippings and telegrams) should be copied. Maintain the copy and the original together. Acidic paper records should be separated from other records and placed in a polyester sleeve or within a folded piece of archival paper.
3. Re-filing
Do not mix distinct documents. Use A4 or A3 size blank/folded paper to separate distinct documents in a folder.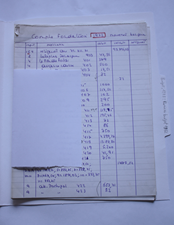 Records must be placed in acid-free file folders large enough to accommodate them safely. The documents must be aligned so they will support one another.
Do not overfill folders. Records that are too tightly packed will be damaged.
Gently shake papers between hands, until all papers are aligned.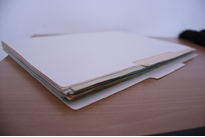 Where binders include subdivisions, place a paper to separate those sections. The file title written on the folder should include the binder title and the section title.
When it is not possible to fit all the papers from one binder or even sub-section into one file folder, number each file folder consecutively in square brackets after the title thus: [1 of 3], [2 of 3], [3 of 3].

Where multiple file folders arise from the same binder or binder section you should use your common sense to divide the papers from all of the folders equally.
It is possible that several binders in the same series will have the same title and date span. In this case they should be adjacent to one another in their intellectual, and also often physical arrangement. The file folders required to hold the contents of both or all binders should be numbered consecutively as a single unit to avoid confusion and duplication of titles and the date spans.
Do not put records from different binders into the same folder.
4. Note-Taking to Facilitate Description
The processing archivist should keep notes about the archival unit. Subjects for notes include, but are not limited to:
subject-related keywords
Dates
Locations
persons/institutions
languages occurring in the documents
potential cross-referencing issues, such as names recorded in multiple formats
Particularly interesting or important documents should be marked for future digitization.
5. Pencils must be used when folder labels are handwritten. Always use soft lead pencil, lead grade B or 2B according to European grade system. Pens can contain inks that are water-soluble or acidic, which may damage records. They should never be used.

6. Housing
For long-term preservation, records are housed in acid-free boxes (Hollingers).
Put folders in the box in ascending order (first at the front, last at the back).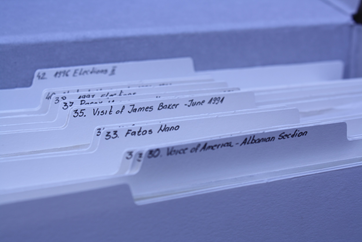 If there are files with the same title but various date spans, place files in box according to the first date
Example: CEU Board Records 1994–1995
CEU Board Records 1995–1997
CEU Board Records 1998–2000
Ensure boxes are not overfilled. Leave enough space to allow a hand to reach in to pull out a folder. If a box contains too many records, materials will be damaged due to their being forced in and out of the box.
Ensure boxes are not underfilled. If a box is not full, materials will bend and slump and eventually become curved. When a box is not full use acid-free spacer boards to keep records upright. Spacer boards should be folded along the score lines at each end and positioned in the backs of boxes with the 'arms' rest against the flat side of the board.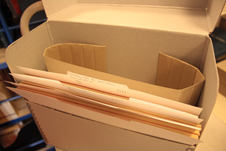 Turn the box with the metal edges to the left.
Write abbreviated title of the series and the sequential number in pencil on the lower front of the box (do not write on the lid!). Write small enough so that eventually a printed label can cover this pencil note. After cataloguing, handwritten labels can be replaced with printed ones: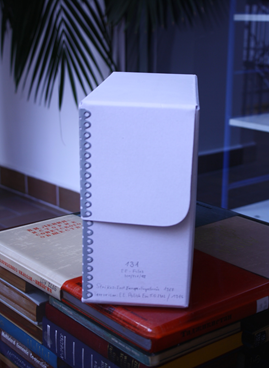 7. Shelving
Place the boxes on the shelves with the title facing out.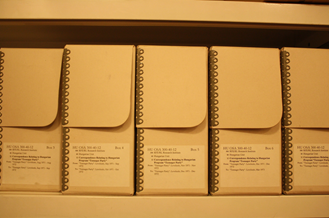 ---
Written by Emily Hanlon on Thursday August 25, 2016 - updated on Monday August 29, 2016