Archival Hierarchy
Archival collections are organized into hierarchical, multilevel units. The entire intellectual construct of an archival collection called a fonds. The subordinate units in an archival fonds are sub-fonds, series, folders and/or items. It is important to note that although some archival management systems support a sub-series collection unit, the OSA AMS does not. The archival hierarchical structure at OSA consists of three discrete levels of intellectual descriptive units.
The organizing principles of an archival fonds are based on the fundamental archival principles of respect des fonds or provenance and original order, which ensure the integrity of the archival collection by respecting the collection's archival bond.
The principle of provenance or the respect des fonds dictates that records of different origins be kept separate to preserve their context. This refers specifically to the creator of a record and its history of ownership.
Archival items are usually arranged by their provenance or their source of origin, i.e. the creator or the collector. The provenance, i.e. origins of the fonds and the chain of custody, should be clearly documented in the collection's archival description.
Original Order refers to the order in which a fonds was created, accumulated or last used. The principle`s primary objective is to maintain a collection's contextual ties by preserving the relationship between archival records. This can be integral for researchers seeking to understand the nuances about the fonds and information about a creator or custodian.
The archival bond is an archival principle which refers to the relationship each archival record in a collection has, with the other records of that same collection. The archival bond is the contextual relationship that can be gleaned from records as a result of their physical and intellectual correlation with related records.

Here is a visual representation of the basic archival hierarchy, followed by an explanation of each of the archival hierarchical levels employed at OSA.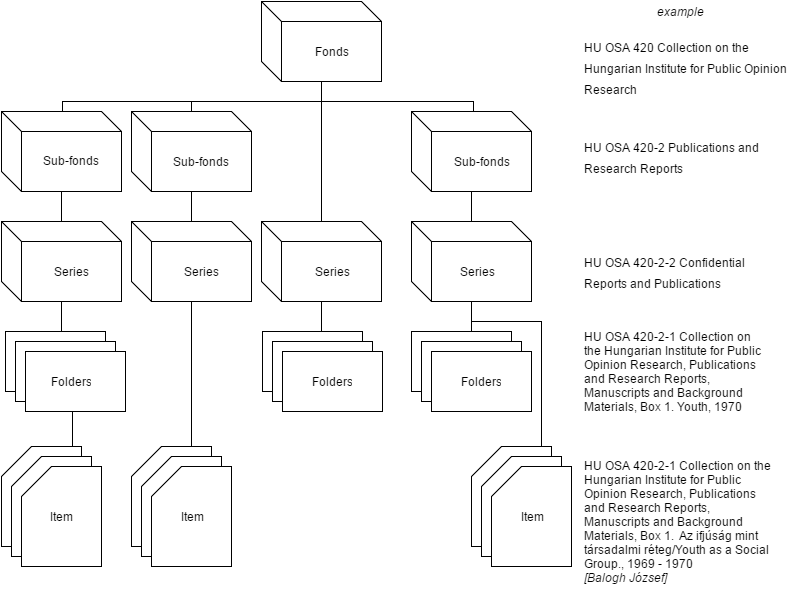 Fonds and all of their subordinate units are made available using archival descriptions. Archival descriptions mirror the archival unit which they describe, i.e. a fonds-level description describes the collection broadly as a whole, while a series-level description describes more specifically the records contained in that series series and the subtopics covered in the subordinate units held in that series. These descriptions are the tool that allow archivists to share their knowledge with researchers. At OSA, these descriptions are made available through the integrated catalog.
To support the creation as well as the use of archival descriptions, standards have been created at international and local levels. At OSA, fonds, sub-fonds and series-level descriptions are based on the the General International Standard Archival Description, second edition, ISAD(G), produced by International Council on Archives'. Our folder and item-level descriptions use ISAD(G), MARC21 and DCMI to facilitate the display and integration of archival and library metadata records on OSA's integrated catalog.
Additionally, at OSA the International Standard Archival Authority Record for Corporate Bodies, Persons and Families, second edition (ISAAR(CPF) is used to describe archival collection, creator and donor authorities in a manner consistent with international practices.
Brief descriptions and definitions of the archival hierarchical units can be found here.
Fonds
This is the highest level of archival arrangement. The whole of the records, regardless of form or medium, organically created and/or accumulated and used by a particular person, family or corporate body in the course of that creator's activities and functions.
At OSA the term 'fonds' is sometimes used interchangeably with the term 'collection'.
Sub-fonds
Sub-fonds are an optional hierarchical level within a fonds. They are justified by the size and structural diversity of the fonds' creator organization, such as different branches of an organization, or thematic complexity of a personal collection.
The sequence of the sub-fonds within a fonds may be defined due to different approaches depending on the nature of the collection.
From general to specific

Chronologic

From more important to less important
For example, the sub-fonds of Radio Free Europe/Radio Liberty Research Institute have been created according to its organizational structure: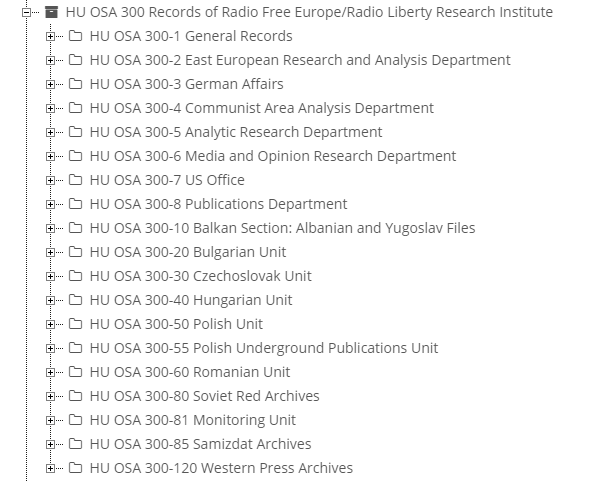 A good example of the of separation of records grouped based on themes, a phenomena which occurs primarily in personal fonds, is HU OSA 356 Pál Schiffer Personal Papers. In this hungarian-language collection the sub-fonds and the series' within those sub-fonds are theme-based.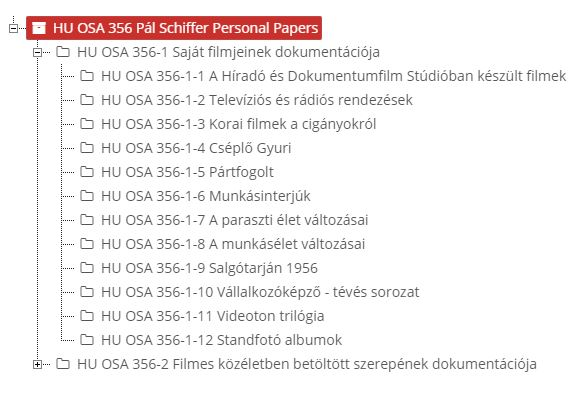 If the sub-fonds hierarchical level is deemed unnecessary for a fonds, it can be omitted entirely. Sub-fonds, along with sub-series, are the only levels of the higher archival hierarchy that can be omitted when complexity of the collection does not imply further splitting or categorization of the records. In the HU OSA 336 example illustrated below, the archival reference code contains a '0' at the sub-fonds level. This indicates that there is no sub-fonds.

Series
A series is a group of documents arranged in accordance with a filing system or maintained as a unit because they result from the same accumulation, filing process, or activity; have a particular form; or because of some other relationship arising out of their creation, receipt, or use. In the example shown here, the series's make up the records of HU OSA 300-60-1 the Romanian Unit.

Folder
In digital recordkeeping, a folder is a filing unit or a directory structure that organizes digital files into groups. With regards to analog materials, folders are physical paper containers that house archival records/items. Almost all paper-based fonds are described at this level. Folders may contain more than one document belonging to the same functional unit.
At OSA, the term 'folder' and 'file folder' are used interchangeably.

Item
Items are generally considered to be the smallest archival unit. Items in an archival fonds can be distinguished from all other units of description (fonds, sub-fonds, series, folder) because they are a complete intellectual unit regardless of their physical characteristics.
Multi-part items
Sometimes a decision about the boundaries of an item are ambiguous, i.e. some items consists of multiple discrete parts and should be treated in the item description as a single item. A photo album may be considered an item or the individual photographs within the album may be considered items depending on the archivist or archival institutions that accessioned the item. Or, a document having several discrete pages is treated as one item because of its content and context.
Another example of a multi-part item is a multi-part documentary film. These multiple, discrete containers, such as 2 DVDs or 2 separate digital files, are considered one single item. It is important to note that although this is the best practice, over the years the due to varying practices, these principles were not always followed so some multi-part films were cataloged as two items, thus their descriptions contain a 'Part1' and 'Part2', and they appear separately in the catalog as such.
---
Written by Emily Hanlon on Monday April 11, 2016 - updated on Tuesday August 30, 2016